Bartlett High School Recipients
Jeremy Arzuaga, BHS Class of 2016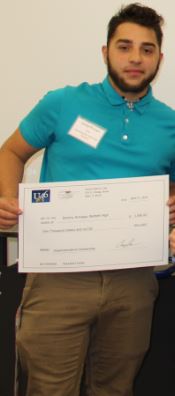 Thanks in part to the Superintendent's Scholarship, Jeremy Arzuaga is pursuing a college degree that will complement his lifelong love of sports.
Jeremy is from Carol Stream and he is the son of Carlos Arzuaga and Betsie Rivera. The 2016 Bartlett High School graduate is a freshman at Eastern Illinois University (EIU), majoring in journalism and sports media relations.
He is aiming for a career in the media department of a professional sports team, or as a sports journalist, or maybe even in broadcasting.
Jeremy has always been a huge fan of many different sports, and his first love is baseball. It was natural for Jeremy to shoot for a career that involves sports and he wisely wants to enjoy his job.
"I want to do something where doing the work makes me happy," Jeremy said.
Jeremy is the first member of his family to attend college, and he realized at a fairly early point at Bartlett High School that he wanted to pursue opportunities that come with a college degree. That college goal motivated him to work hard in his classes and achieve good grades. The academic achievement reinforced and provided further motivation for his college dreams.
Jeremy's grades helped him earn a partial scholarship at EIU. He is using the proceeds from the Superintendent's Scholarship to offset his tuition and book fees.