Larkin High School Recipients
Trevon Flowers, LHS Class of 2015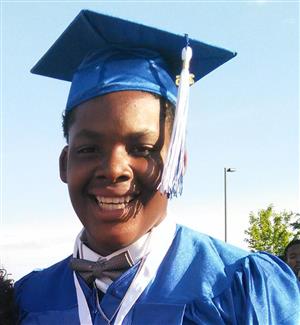 Trevon Flowers was among 15 students at U-46 to receive the Superintendent's Scholarship last year. The scholarship helped fuel Trevon's confidence that his dream of going to college was becoming a reality.
Trevon is the first in his family to attend college and said the scholarship helped him to set a good example for his younger siblings.
Following in the footsteps of Dr. Martin Luther King Jr., Trevon graduated from Larkin High School in three years and is a freshman at Morehouse College in Atlanta. He is majoring in biology and minoring in Spanish and hopes to become an OBGYN.
"It felt great to receive the Superintendent's Scholarship," Trevon said. "It meant that my work was not in vain and that what I was doing in high school was noticed."
Trevon gets inspiration from his mother who went to school in 2012 for medical billing.
"She showed me that I can go to college and make a life of my own," Trevon said.
Trevon said his mother is very proud of him.
"She can't wait for the four years of college to be over so I can say 'I have my degree,'" Trevon said. "Who knows, I might just graduate from college in three years."
Although Trevon received six scholarships in total, he said the Superintendent Scholarships paid for his book fees and room and board.