Larkin High School Recipients
Maria Ramirez, LHS Class of 2016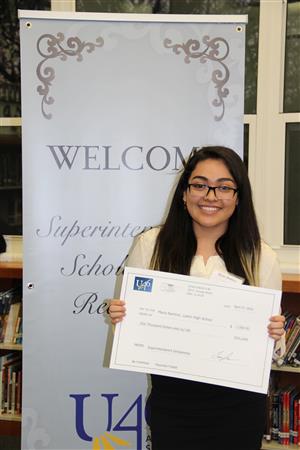 For Maria Ramirez, a course at Larkin High School (LHS) in preschool education put her on a path toward a career as a teacher.
While attending LHS, Maria enrolled to study in Larkin's Little Royal Preschool, which is part of the school's childhood education program.
At Little Royal, Maria, under the supervision of her instructor Aurora Monreal-Berner, worked with young children on age-appropriate development activities twice a week. The class gives the high school students a taste of a career in education.
"I always knew I wanted to do something with little kids, but I didn't know what exactly," the 2016 graduate said.
Within the lesson planning and working with kids, Maria discovered her calling. She wants to be a kindergarten teacher.
Maria, who is the daughter of Sara Arroyo of Elgin, is now enrolled at Northern Illinois University, where she is studying family and childhood education. After her first semester, she was cited by the university for academic excellence.
Having a dream to teach is part of the process, but having the wherewithal to make it happen is critical. Maria was one of the 2016 Superintendent's Scholarship winners in U-46, and she used her grant money to help pay for her college textbooks.