South Elgin High School Recipients
Trenton Williams, SEHS Class of 2016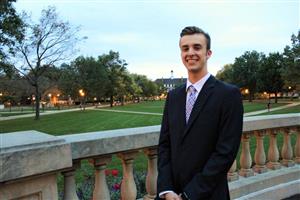 Trenton Williams has a head for business. But he has a heart for comedy.
The 2016 South Elgin High School graduate and Superintendent's Scholarship winner is a freshman at the University of Illinois at Champaign-Urbana. Williams is pursuing a degree in business with minors in public relations and marketing.
Trenton's dream career would be landing a role as a cast member on Saturday Night Live.
"If I could have a job making people laugh, that would be awesome," said Trenton.
Being in front of a crowd is nothing new for the Bartlett resident. He's been a magician for some time, and in high school was half of a duo called "Minds of Magik" who were regular finalists in the U-46 talent competition.
During his first semester on a college campus, he said he made a few contacts that he hopes will lead to an internship at Chicago's Second City improv theater. Although he thinks he'll pursue a career on the stage, Trenton still sees the value in a business degree.
"I know my business degree will help me in anything I want to do," Trenton said. "Maybe someday I'll want to open a comedy club, and I'll know how to do it."