South Elgin High School Recipients
Keyanna Ash, SEHS Class of 2015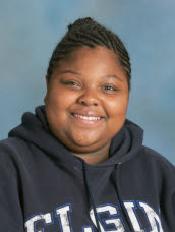 South Elgin High School 2015 graduate Keyanna Ash wanted to be an attorney ever since she was young.
"I am very opinionated and I like to help people; my teachers always told me I would make a good lawyer," Keyanna said.
Today, she is majoring in Law Enforcement and Justice Administration at Western Illinois University, thanks in part to receiving the U- 46 Superintendent's Scholarship as well as federal student aid.
"The Superintendent's Scholarship meant a lot to me because it took some of the financial stress off of me and my family," Keyanna said.
Keyanna said her family was extremely proud when she was accepted to Western Illinois University because it was her top choice due to the school's law enforcement program.
Keyanna credits the U-46 AVID program for helping her become an organized student and said the classes she took at South Elgin High School that pertained to her major prepared her for college level work.