Streamwood High School Recipients
Dominik Pabianczyk, SHS Class of 2015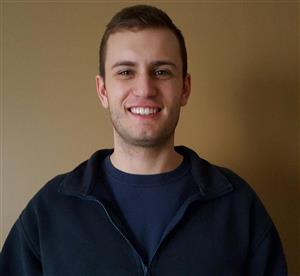 Streamwood High School 2015 graduate Dominik Pabianczyk is well on his way to becoming a firefighter. He is studying Applied Science/Fire Science at Elgin Community College, recently earned his EMT certificate and is working on earning his paramedic certificate.
The first in his family to attend college, Dominik received seven scholarships, including the U-46 Superintendent's Scholarship.
"When I realized that not a lot of students get the Superintendent's Scholarship, I was shocked and appreciative to receive it," Dominik said.
"My parents were always supportive of me and always wanted me to go to college," Dominik said, adding that sophomore year he developed a plan to ensure he would not waste money on higher education.
He joined the cadets program with the Streamwood Fire Department.
"Once I started doing ride-alongs and going on calls, I fell in love with it," Dominik said.
At U-46, Dominik was enrolled in Streamwood High School's World Languages and International Studies Academy. He said his teachers were very influential and helped him plan for the future.
"They really opened up the world to me; it was nice to have that one-on-one interaction with them helping me prepare for the future."
To current U-46 students considering applying for the Superintendent's Scholarship, Dominik had this to say – "Do it. It takes 20 minutes and it could change your life."